I recently had the pleasure of visiting White City and its wonderful library. I'll admit, before the visit I knew very little about White City or the surrounding area, but let me tell you, researching for this post, I learned a lot!
For one thing, there used to be a WWII military base called Camp White, which had over 1,300 buildings on the site, and at its peak had 40,000 enlisted men and women on the base! The town of White city is named for this base, and all that remains now is the White City VA Rehabilitation Center and Clinics. For more information on the history of Camp White, you can check out this site.
Another cool thing about White City is that it is just two miles from the Agate Desert Preserve. This nature preserve, now under the guardianship of the Southern Oregon Land Conservancy (SOLC), is home to vernal pools, the endangered and federally protected fairy shrimp, and other endangered or protected species of flowers and native grasses. It was named the agate desert because of the abundance of agates, petrified wood, and jasper that can be found there. Back in the day, this unique ecosystem comprised over 33,000 acres stretching from Central point, White City, and Eagle Point; now only 20% of it remains. SOLC is working hard to bring it back to its original, native state. For more information on the Agate desert preserve visit https://www.landconserve.org/agate-desert.
With all this new and exciting information about the history and surrounding area, I couldn't wait to visit the library itself! On the day of my visit, I was lucky enough to meet all the current staff and learn what a talented and creative bunch of folks they are. One of the very first things I noticed when I walked in was the charming window art.
Other places in the library also showed off their creative and artistic talents like the children's area,
and behind the front desk.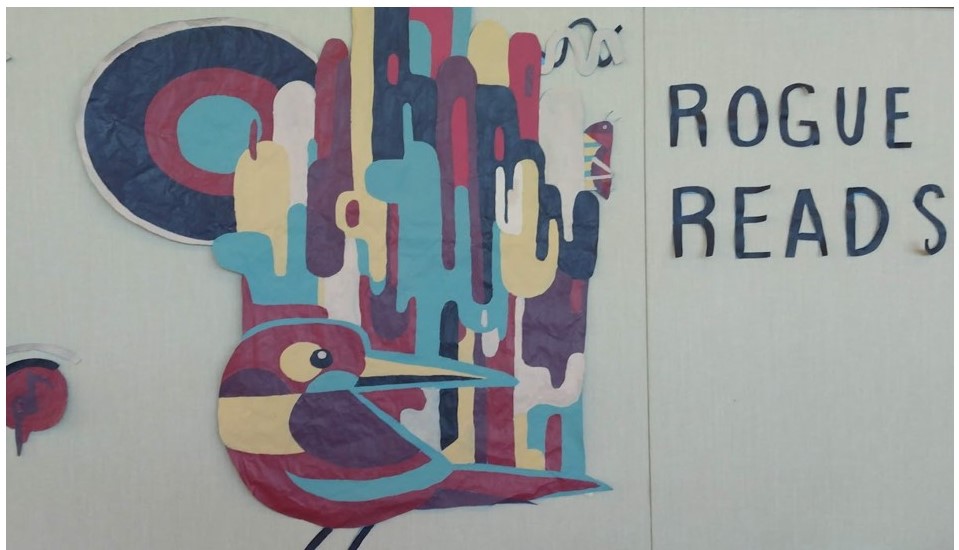 All of this pointed to a creative and artistic team indeed. But it doesn't end there, the team has lots of great plans for revamping the teen area, bringing back the Spark Space, finding a better place for new books and patron holds, and moving the world languages area. All with the hopes of making the library, its services, and resources more easily accessible to patrons. This is a team with ideas and an awesome energy to make it happen. It is no wonder that there are new people coming in all the time, and the community really seems to value the library for it resources and as a place to gather.
The White City Library staff doesn't just have big ideas for the future, they have programs going on right now that are also amazing. One that I thought was neat is the Plant Exchange. This is how branch manager Allyson explains the program: "The cabinet is a way for patrons to share their love of gardening with the community. Plant cuttings, sprouts, whole plants, seeds, small gardening equipment, etc. are all welcome. It is our hope to share the love of planting/gardening with our patrons and to have them be excited for new opportunities to garden."
Of course, the library space, in general, is pretty neat as well, with lots of big bright windows
Comfortable chairs for relaxing and reading
Lovely greenery throughout the space
And wonderful views
Discovering all this cool information about White City and its wonderful library was a great reminder to me that there is always more than meets the eye in all the little towns and tucked away places in our beautiful valley. It is also a reminder that adventures await right in our own backyards, so swing by the White City Library and discover something new — at the very least, you'll meet some terrific people ready and eager to welcome you.