June is Pride month! Pride is a celebration of the LGBTQ+ community, and we invite you to celebrate with a Take & Make kit featuring the Pride flag. Today, the rainbow Pride flag is so widespread that it seems almost synonymous with LGBTQ+ identity—however, less than fifty years ago, the rainbow wasn't even in the repertoire of LGBTQ+ symbols. The rainbow stripes were chosen carefully and intentionally, and in this blog post I want to dig into the journey of the Pride flag.  
In 1978, the artist Gilbert Baker set out to create a strong, joyful symbol for the beauty and complexity of LGBTQ+ identity. Before the invention of Baker's rainbow flag, many LGBTQ+ symbols were images which carried deep and painful memories (such as the widespread use of the pink triangle, which originated in Nazi Germany). The rainbow flag was something new—a symbol chosen by the community and for the community, with each vibrant color representing an important part of LGBTQ+ identity.
Red – Life
Orange – Healing
Yellow – Sunlight
Green – Nature
Blue – Art
Violet – Spirit
Baker's original flag also included hot pink and indigo, which stood for intimacy and harmony. The Pride flag is a constantly evolving entity, changing over the years to meet the changing needs of the community. Recently, activists in Philadelphia added black and brown stripes to represent the intersectional experience of BIPOC/LGBTQ+ communities. The black stripe is also sometimes added to honor the many members of the community who have been lost to AIDS.
Twenty years after Baker's rainbow flag, Trans activist Monica Helms envisioned the blue, white, and pink stripes of the Trans Pride flag. The blue and pink stripes represent male and female gender identities, while the white stripe represents non-binary, intersex, questioning, and agender identities. My favorite aspect of Helms' Trans Pride flag is that there is no distinguishable top or bottom. In her words, "The pattern is such that no matter which way you fly it, it is always correct, signifying us finding correctness in our lives." More recently, the Progress Pride Flag, designed by Daniel Quasar, includes the blue, pink, and white stripes of the Trans Pride flag as well as black, brown, red, orange, yellow, green, blue, and violet stripes. I think that this is the most beautiful part of the Pride flag—how it has inspired LGBTQ+ artists and activists to make it their own, becoming a collaborative effort in community identity.  
Today, there are many distinct flags that represent the diversity of LGBTQ+ identities. If you want to read more about the designs developed to represent different identities, you can check out this list here (while this list doesn't have every single flag, it is a great starting point for your research). We fly our flags in June to celebrate Pride month, or all year-round to celebrate being ourselves 365 days a year.  
For this Take & Make, we are celebrating Pride with our own flags and pins. You can decorate your flag and pin with the traditional rainbow flag, the Progress Pride flag, or with any combination of colors and symbols that represent you, your family, or your community. How do you feel represented? Do you feel like there is a flag that already represents you, or is the world waiting for you to make your own?  
Materials for this Take & Make are available at the Ashland library, but the ever-evolving Pride flag belongs to all the LGBTQ+ community (in fact, Gilbert Baker made sure that his rainbow design was never trademarked, so it could continue to be a community-owned labor of love). If you feel inspired to explore what Pride means to you, but don't have a chance to grab a Take & Make, go ahead and use whatever materials you might have at home: pen and paper, fabric, paint, sculpy, beads, collage, or a cross stitch would all be amazing choices. Maybe your version of a Pride flag is a rainbow cake or a vibrant garden bed. You can also check out the Natural Dye Pride Flags program at the Medford Library on Friday, June 25 at 1:00 p.m.
Here are some tips on using the materials provided in the Ashland Library's Take & Make kit: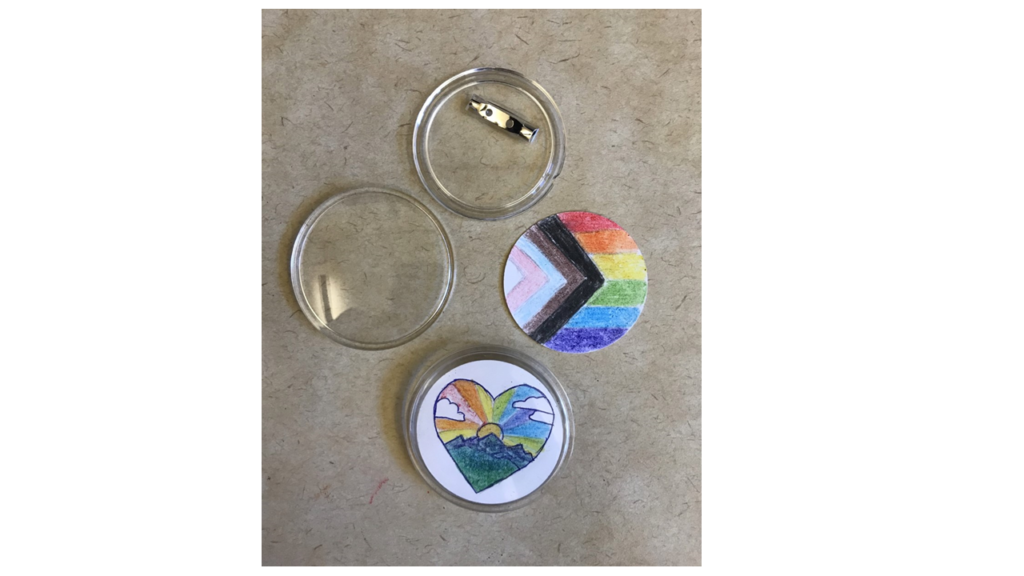 To make your Pride pins, draw whatever you want on the cardstock! I did one with the Progress Pride flag, and one with some Oregon mountains and a Rainbow Pride sky. Other options could include your pronouns or the Pride flag that resonates most with you.
Press firmly on the plastic backing until it pops into place. No button machine needed! Don't forget to check that your design is centered before adding the backing.
For your flag, you have acrylic paints and two brushes to paint whatever "Pride" means to you. It helps to put down some scratch paper under the fabric to catch any paint that bleeds through. If you're missing any colors that you need for your design, you can always mix your own from the acrylics. Also, please note that the acrylic paints are not washable, so maybe make sure you are wearing your paint clothes!
JCLS is hosting an online conversation on Trans and Queer Rights in partnership with Southern Oregon Coalition for Racial Equity, the Rogue Action Center, and Josephine Social Justice Alliance. And if you want to show off your flag and tell us what it means to you, you can join us for our Queer Coffeehouse @ the (Virtual) Library on July 3rd. We would love to see what you came up with! 
---
Guest post by Griffin Harwood