With the ever-present specter of COVID-19, Thanksgiving will likely be different for many of us this year. The Ashland Library Children's Department is ready to step in with some fun! Stop by the Ashland Library starting Saturday, November 21st to pick up a Thanks Turkey Take & Make Kit. Just remember, supplies are limited, so kits are available on a first-come, first-served basis.
Here are some of the things you'll find in the Take and Make:
A paper lunch bag, leaves (real leaves or paper cut-outs), scissors
A popsicle craft stick, rubber band, hole punch
Several sheets of printer paper, glue, crayons, googly eyes (if you have them)
This can be a great family project, so get everyone involved! Take the opportunity to go outside together to collect some leaves, enjoy the fresh air, and spend time focusing on and appreciating the small things that get us through the day.
Let's get this project started!
Fold the paper bag and the printer paper in half.
Tuck the printer paper (folded side first) inside the folded paper bag.
Punch two holes about 3 inches apart on the folded half of the paper bag.
Take the rubber band and thread it through one of the holes.
Next, slide the craft stick through the loop of the rubber band.
Take the other end of the rubber band, and thread it through the opposite hole.
This gives you a binding for your book.
Draw a or cut out a beak and a snood (the thing that hangs off the turkey's beak) and add some eyes.
This will be the front of your book.
Flip the book over and add some leaves. These can be real leaves that you collect outside, or you can draw and cut out your own. Glue the leaves to the bag.
Flip the book back over and you have a sweet little Turkey Thanks book! Use it to write down the things you and your family are thankful for.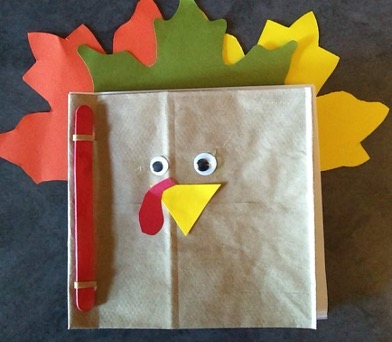 Every branch in the library district usually has some craft or activity for you do with your child,  and the great thing is, these will still be available as part of our front door service!  Stop by and say "Hi" and find out what is available. In the meantime, check out the Storytime short featuring Bear Says Thanks, and for more books about giving thanks, visit our catalog for the list Fostering Gratitude.